Nowadays, we rely on technology for almost everything – be it checking work emails or exploring Mars. Thanks to technology, we are more efficient and get to live a more convenient lifestyle, but this comes with a little downside – vulnerability. How so? Well, remember how a few years back Amazon's Ring cameras were hacked[1] or how security home systems like Swann ended up broadcasting someone else's kitchen for dozen of users to see, or even something as simple as phishing attempts coming from one of our beloved file-sharing services like Dropbox.
Is it really that bad? That is something for you to reflect on, but before you answer, let me give my two cents on the topic.
The Rise and Fall of Snap Map
I know. This one is major old news all the way back from 2017, but the core issue remains and is not exclusive to Snap Map.
Long story short, Snap Map is one of Snapchat's side hustles – it uses geolocation that lets you and your friends see where you are down to the street name and building (really, the concept is not rocket science, it is essentially the same thing as sharing your location on Google Maps/Android/iPhone.) Cool, we get to make sure our friends are getting home safe after a wild night out, yet it is more dangerous than that… 'How?'s and 'Why?'s would be reasonable questions to ask. And the answer is not very 'wow-factor' worthy: many Snapchat users are not close friends with every single person who follows them on the app, meaning that you would not be the only one watching your friends get home. There is a running risk that such intimate information would fall into the wrong hands, leading to stalking and other more serious offences.
'Apple' of Discord
Let's fast forward to April 2021 – AirTag is the newest addition to Tim Cook's ecosystem. On the surface, this tiny "flying saucer" is a useful creation, I mean, if you tend to misplace your house keys or leave your wallet behind, Tim Cook got your back! By attaching an AirTag to an item of your choice, you are able to track its location using other Apple devices via the Find My app.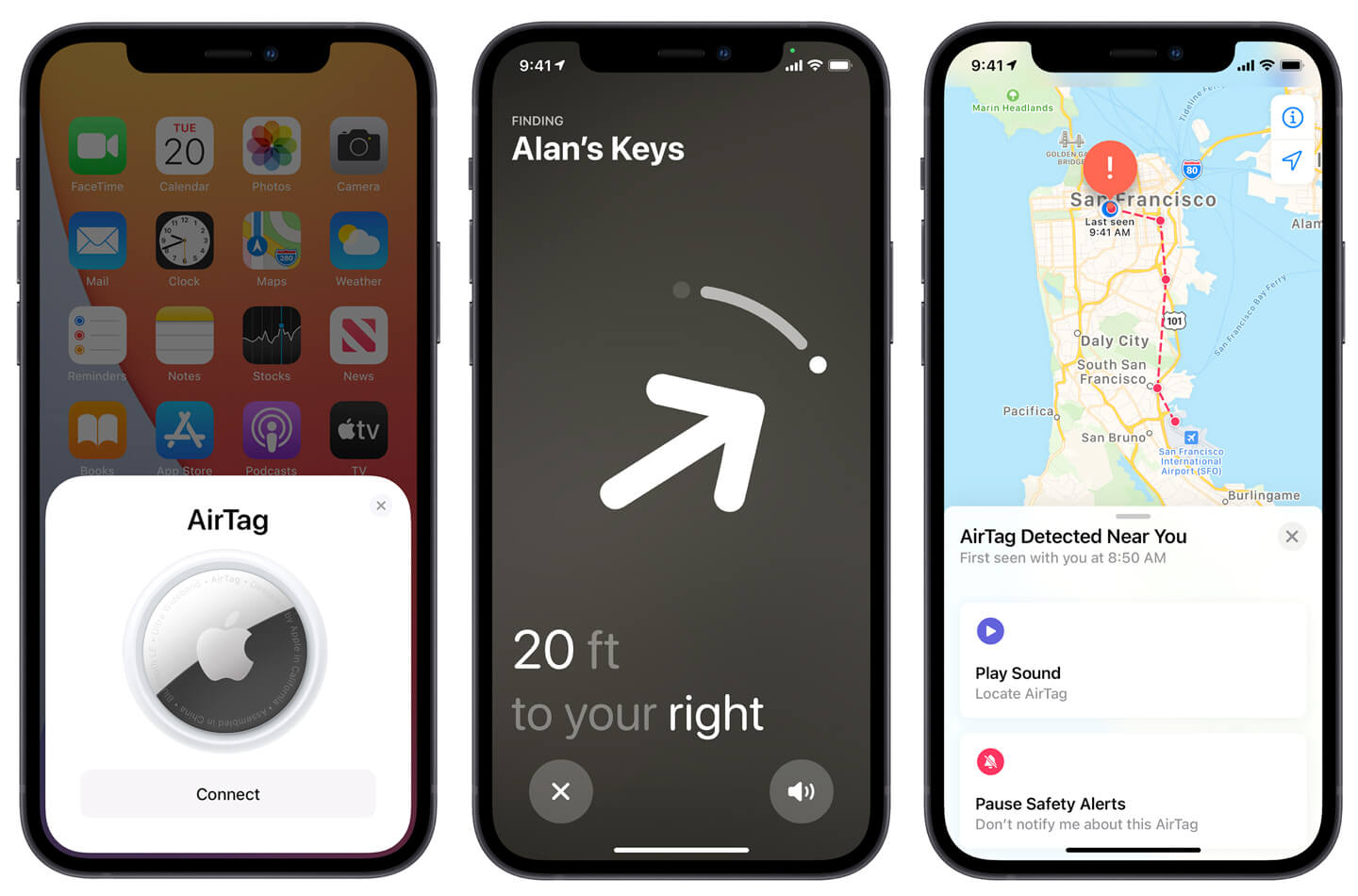 The new Apple product quickly won hearts all over the world with its practicality. People have come up with so many uses for it:
I agree, putting an AirTag on your bike or left sock is very helpful – you do not have to search for painful hours for your missing items ever again. Gosh, even an Administrative Assistant named Michael at Apple thinks so too:
We're delighted to hear about creative uses for AirTags and how they can improve our customers' lives.
But just like with Snap Map, there is a hidden security concern. Imagine a third party using this harmless disc to track you. And police cannot be of much help as there is no physical altercation involved. The worst of it all is that the AirTag can be used anonymously, making it easier for others to get away with their unlawful actions. Yes, you read that right, anonymously: all signals sent out and received by AirTags are anonymous to keep the user's identity safe[2].
In just a few months after the release, people started reporting having AirTags attached to their cars and luggage:
The whole incident resulted in Apple giving a statement and releasing a "How to…" in 2022, roughly 6 months after the first reported incident:
However, the issue is still here and so is the device. So, now you tell me if it is really that bad.
References:
[1]
[2] https://amp.theguardian.com/technology/2022/jan/20/apple-airtags-stalking-complaints-technology