I am sure most of us have an impressive collection of compromising photos of our younger selves stored in dusty photo albums that get 're-discovered' every once in a while. Or what about those numerous polaroids we have taken when on road trips with friends? C'mon, we are all guilty of snapping peculiar moments to keep as teasing material (yes, be it photos of your friends getting wasted or falling asleep with their eyes open; anything goes). Printed photos are considered to be the most cherished as you can keep them with you at all times without having to endlessly scroll through your camera roll that may or may not be spammed with screenshots and memes that you "might send later". But what happens to photos that get lost in bustling cities or photo albums that end up in thrift stores? What is their story, and how does this story change? Let's discuss how digital media can help these photos resurface.
Museum of Lost Memories (Help Me Find Them)
Recently, I stumbled across an Instagram account that quickly won my heart with its message — reunite people with photos and videotapes that once belonged to them or their relatives[1].
The person behind such a grand gesture is 25-year-old David Gutenmacher, who started his "archive" back in 2017. Why? Simple. At first, he started collecting and digitising old photos and videos from thrift stores and flea markets in hopes to find super 8 movies and family photos of his grandparents as those memories were lost during the move from Brazil to the US. Thus, in the process of filling in the gaps in his genealogy, David decided to not only collect lost memories but also to try and return them to their original owners whenever possible, helping strangers preserve them:
It made me sad to think that, to someone, these were all moments special enough to photograph and print.

David Gutenmacher @BuzzfeedNews
So, at the very beginning of his "archive", David started posting found memories on TikTok and just within a few weeks several families reached out after seeing their lost photos in shared clips:
As his following grew, the founder of 'Museum of Lost Memories' started asking followers to join him in his search. Often in his posts, David shares possible clues such as names, dates and places that are written at the back of the photos. If photos were taken on the streets then David tries to look for street signs and any memorable building present in the shot which he then "examines" using Google Maps: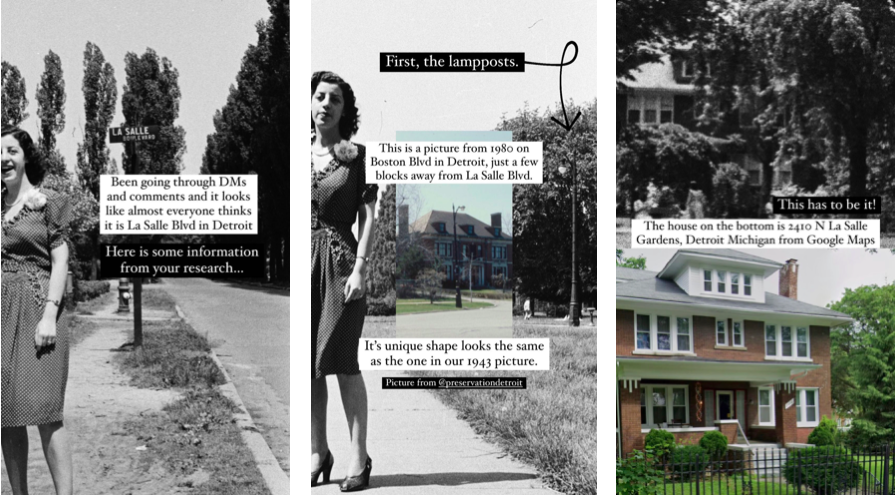 As for David himself, he is still searching for his own memories and plans on opening a physical museum for everyone to visit.
'Niotkuda' (Eng. Nowhere)
In 2020, a graphic designer named Dima Shalaev created a project of his own with a goal, unlike David's, not so much about finding the owners of the lost film but going back decades and seeing the joyful private moments of people from nowhere, as well as historical events.
Most of the films, just like the one below, were bought on Avito (the Russian version of eBay) in March 2020 for only 2$. Allegedly, the seller said: "It came to me in a completely random way, I found films among someone else's trash".
On Niotkuda's website, Dima writes how he never planned on finding the family although he did not discard the possibility that family members of those featured in the film themselves could reach out to him after having seen the edited footage on YouTube or Reddit. Well, long story short — Dima now knows every single family member captured on film by name and is even familiar with their family tree (shout out to Ancestry). Creepy? Yes, the founder of the project thinks so too. But now the boy in the video, Kenneth, has the footage of his 3rd birthday party that he probably had no recollection of. "Wait. How did Dima find the boy?" you may ask. Well, we can all thank Google and social media — when scanning the boxes in which the film was stored, Dima noticed that the original Kodak processing centre wrote down both name and address of the person who requested the film to get developed. Googling the first and last names of the person was not hard and helped to pinpoint — now not so little — Kenneth (who is currently a neurologist in California).
NOTE: full story can only be found on the Russian version of the website. I recommend asking Google to help with translation (which may or may not mess up the formatting).
Found Polaroids (Do You Recognise Them?)
Over the last 11 years, Toronto photographer Kyler Zeleny has accumulated over six thousand Polaroid photographs of strangers through garage sales, flea markets, and online marketplaces. Initially, Kyler wanted to find people captured on Polaroids but with a little twist. After returning the Polaroids to their rightful owners, of course. The founder of 'The Found Polaroids Project' wanted people to write a brief fiction story (250-350 words) about those whose Polaroid was taken (not who they are in real life but whom they could have been or seem to be)[2].
So we're talking about two different things but they're very much connected: it's the idea of image journey in the Polaroid and the idea of life journey in the person who's in the Polaroid.

Kyler Zeleny @Found Polaroids
So, dear reader, what can we conclude? People captured on film might have lost their memories, but those people are far from being forgotten, and so are their cherished moments. They shall live for as long as the link does.
References:
[1] https://nypost.com/2021/03/05/tiktok-collector-reunites-families-with-lost-photos-and-videos/
[2]