Nowadays, most people would be part of some sort of online community. This could range from an online game to a Facebook group. It creates an online space for people to interact with each other, whilst being on different parts of the world. Today I would like to share my first digital experience, which was a social media platform called Hyves. For those who are not familiar with Hyves: Hyves was a Dutch social media platform from 2004 until 2013 and could be compared to Facebook nowadays. During its best year, the website had about 10 million members. I must have been nine or ten years old when I created my first account and became an official member of the digital world. To me, Hyves was a place where I could talk with my friends online, write basic updates about my life and play games. In my area it was normal for people to own a Hyves page and to be online almost every day.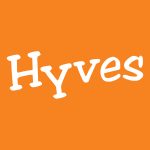 Hyves; the basics
Hyves allowed its members to design their own main page, where you could upload a background photo and pick a colour scheme, which were often very bright colours. On a user's main page you where able to view someone's profile picture, basic information, friends, photos and received messages (also referred to as "krabbels"). The platform allowed you to create status updates for your friends to read, send messages to your friends, create polls, to play games or to create 'buddypokes'. Buddypokes was a software allowing you to create a virtual version of your self and make it do fun activities with your friends.
Games
Old Hyves members might remember the variety of games on Hyves, which allowed its players to interact with each other. Examples of such were Pet Party and Eccky. Both games allowed players to live a virtual life, visit public places, buy items such as clothing, keep pets and play mini-games. On someone Hyves you could see who played what game, plus their level upgrades.
The end of Hyves
The social media platform was rather popular in The Netherlands during the years after its introduction in the early 2000s. However, over time Hyves its popularity declined. Other international social media platforms, such as Facebook and Twitter, grew in popularity causing people to switch and leave Hyves. After Hyves stopped as a social media platform, it continued as a gaming site under the name Hyves Games. A few years ago people created a new social media platform similar to Hyves under the name Hyven (Hyven – Altijd verbonden met je vrienden), but with around 20.000 members it never gained the same popularity as it had almost 20 years ago. Nonetheless, for those who would like to be nostalgic, it turns out some old Hyves pages can still be visited via online archives. For me, Hyves was my introduction to social media and the digital world and despite having enjoyed Hyves when I was younger, I do not feel the need to return to the social media platform.
Tweakers. 2013. Uitgekrabbeld: de opkomst en ondergang van Hyves – Achtergrond – Tweakers.