After the elections of the new US president in November 2020, I think most of us are happy that Joe Biden won against his competitor and now ex-president Donald J. Trump. During his four-year rule, former president Trump made decisions, some good but most of them rather questionable and unreasonable. He made many statements, which turned out misleading or false during his campaign and presidency and supported many conspiracy theories. In general, his way of ruling the US has been more egoistic and self-promoting than actually Mak[ing] America Great Again. BUT this time is over now. Or at least it seemed so until recently.
What happened?
Since his presidency, Trump was busy with his post presidential activities and multiple civil and criminal investigations into his business activities. He drew attention to himself with his 'fake news' claims and his press conference where he urged his supporters to "take back our country" by marching to the Capitol to "show strength" and "fight like hell". After these and more missteps, multiple online platforms like Twitter, Facebook and Instagram, Reddit, Twitch and more banned the account of Donald Trump and his supporters.
Sooooo, what is our favorite president planning to undo this great injustice that has been done to him? Together with the Trump Media and Technology Group, he creates his own online platform "that encourages an open, free, and honest global conversation without discriminating against political ideology." Whether this will actually be the case after his history of fake news and racist actions, we will probably see in November 2021, as this is the presumed release date of the TRUTH Social platform and app in the Appstore.
The truth, the whole truth and nothing but the truth?
TRUTH Social promises to give the users the change to share their opinion without any form of discrimination or judgement, but what can we really expect from the online platform and will it really be open and free for everyone? It is created to offer a platform for open exchange and discussions, yet from previous experiences connected with Trump, the truth and open debates were barely his favorite topics. What if a user posts an article which is criticizing Trump himself? Can we expect then that Trump grew beyond himself and accepts any criticism or will he flag this as fake news then and maybe even block these users? Because TRUTH Social's terms of service still state that users may not "disparage, tarnish, or otherwise harm, in our opinion, us and/or the Site." The high focus on TRUTH will most certainly backfire on Trump and what then? What we already know though is that this is his way of trying to regain lost ground, prior to a wished-for presidential comeback in 2024. It's a political propaganda platform intended to magnify and exploit the hate, ignorance and prejudice on which he feeds.
So popular, you have to get on the waiting list
Even though, the online platform isn't launched yet, it seems like the demand for it is impressively high. Or maybe Trump and the Trump Media and Technology Group just want it to look like that with this waiting list feature.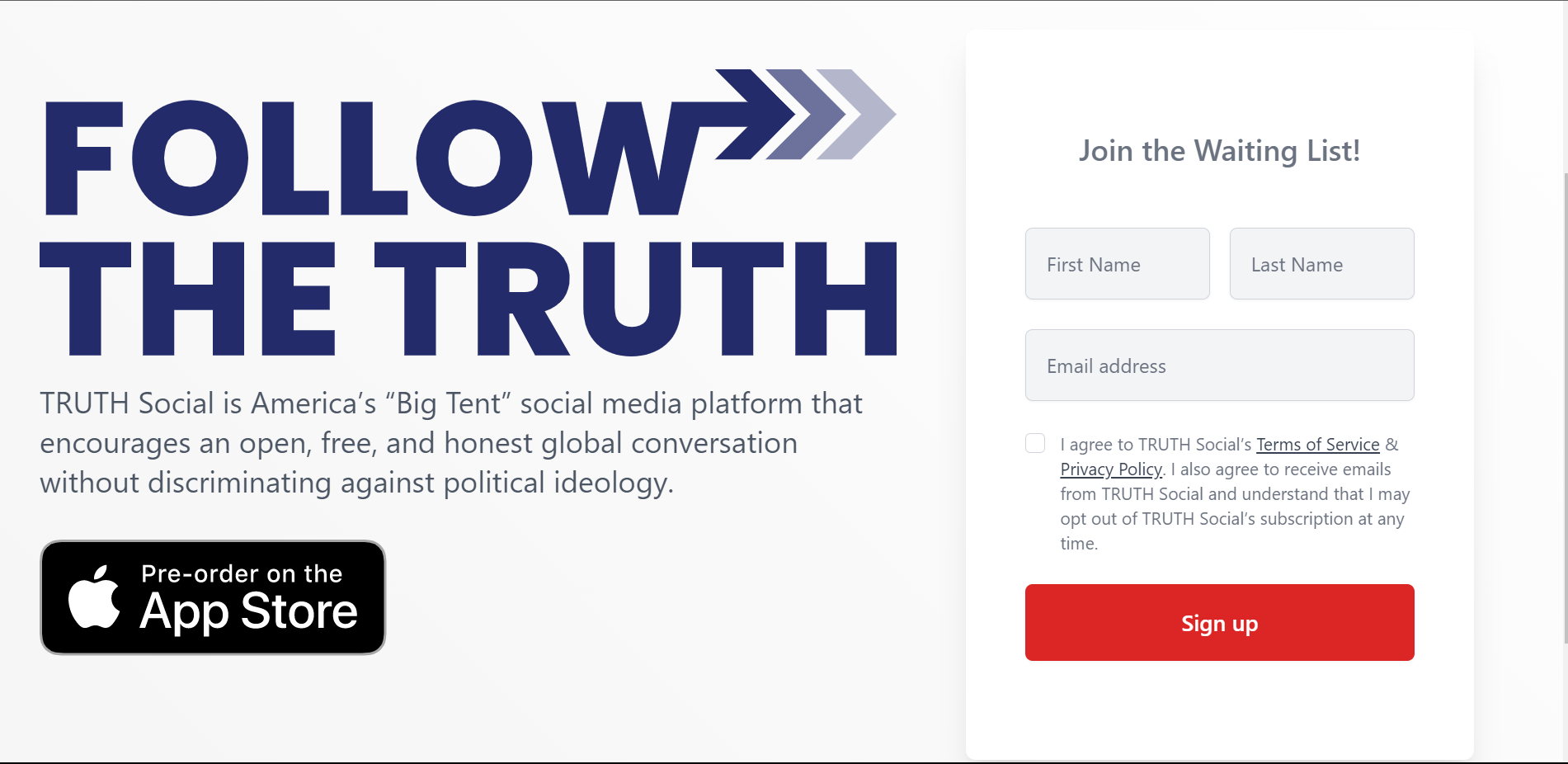 Is the online platform really that popular already among Trump supporters and other people? We don't know yet, it might as well just be a clever move of his management. My theory is that this could be just a cry for attention to gain back some social recognition because he is desperate to be back in the conversation or just another way of making quick money.
Whatever his motives are, after I registered for the waiting list, with the hope of finding out more what happens next, I guess I just have to wait for the TRUTH to come to me now.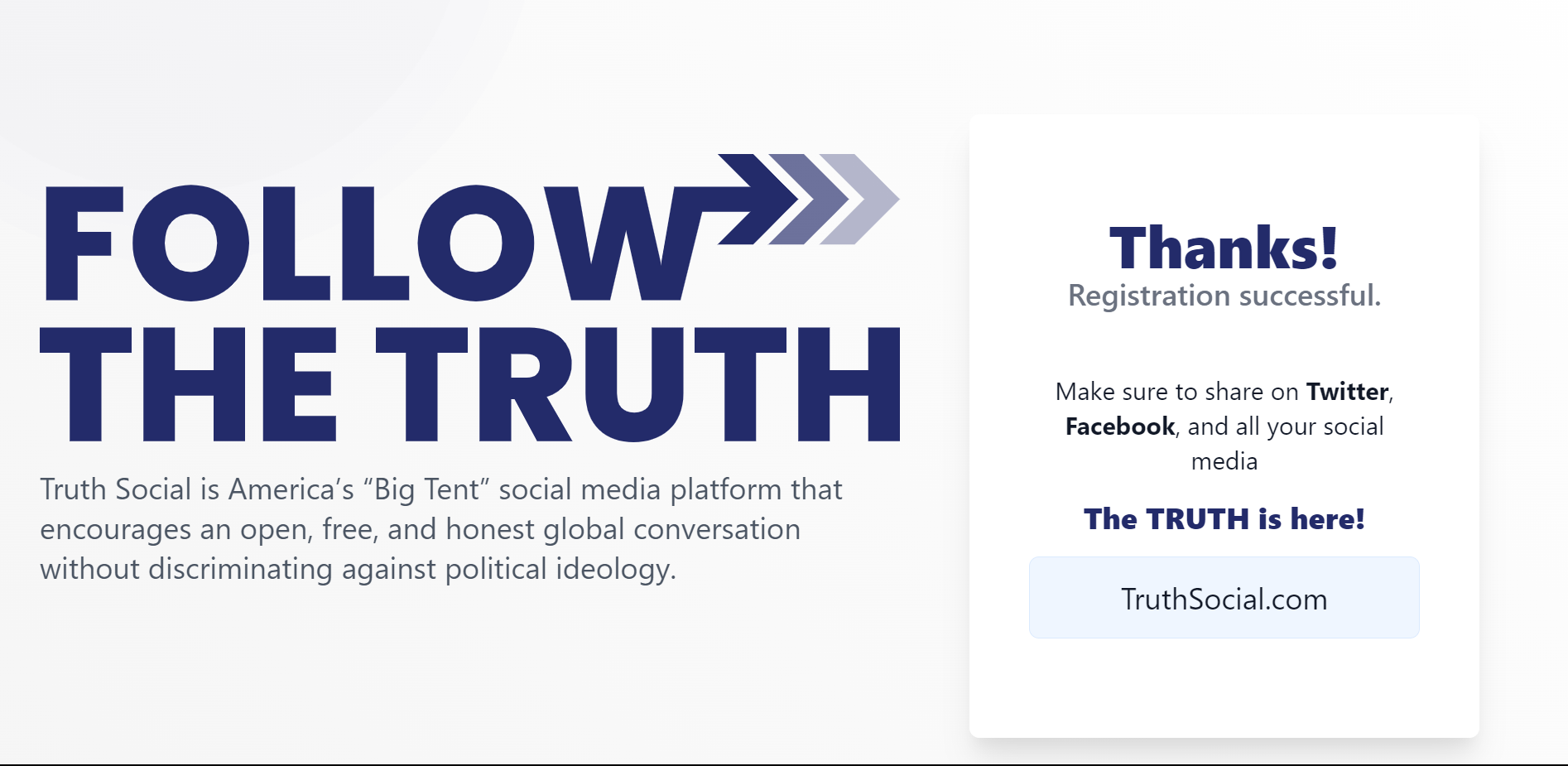 More sources and references