"Digital fashion is an opportunity to redefine business models and build a more sustainable, progressive future." (CCO and co-founder of DRESSX)
What is Digital Fashion?
Like any other industry, in fashion, the focus is changing to existing in a digital world. Digitalization has been taking place in the fashion industry for the past few years. Digital fashion already exists in the form of video games. Fortnite for example has introduced special "skins" (outfits) players can buy for their character. Professional players and digital influencers like Ninja have even made their own line of skins that can be purchased at the Fortnite store. During the pandemic, Marc Jacobs and Valentino collaborated with Animal Crossing to create digital looks and Kara Chung even hosted the first fashion show on this game.
Another example is seen with fully digital influencers like Lil Miquela who have made a successful career for themselves on platforms like Instagram. In her posts, she is even seen wearing digitized versions of popular clothing found in physical stores such as Prada. Now taking all of these advancements, conventional fashion uses are being taken into account, with new sites launching. The pioneer of this movement is DRESSX. This AR app acts as a virtual retail store, containing virtual outfits that customers can try on as a filter. Then, if they wish to purchase a certain outfit, they must take a picture in their desired pose wearing skintight clothing and the outfit will be photoshopped onto them. Though there are different ways to sell digital clothes (such as e-commerce sites), others are being considered NFTs and are recorded on the blockchain (Benson 2021).
Recently, a YouTuber, "Safiya Nygaard" made a video wearing a few pieces from different lines to test how realistic the images are, as well as the kind of engagement she would gain from her followers. After a week of posting, she concluded that the clothes gave her special attention due to the futuristic look of the gowns, and many followers couldn't tell if they were digitally imposed or bought. She also noted that it was a good way to wear extravagant clothes without the environmental waste of buying items for one-time use for a picture or event.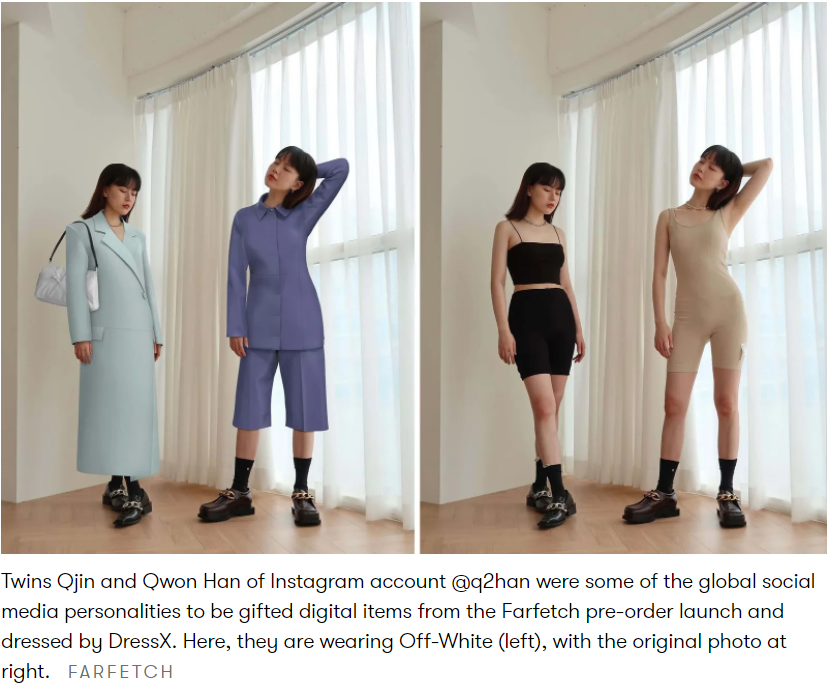 What are the benefits of digital fashion?
The rise in digital fashion was embraced during the recent COVID-19 pandemic. With events canceled and travel bans enforced, fashion weeks across the globe had to find ways to have their events in a safe way. One example of this was Helsinki Fashion Week which hosted the first digital fashion show on the social metaverse "Digital Village", where attendees could attend the shows as avatars and even try on clothes and pre-order them to their homes. According to Gregorie Willnerbal from Scotomalab (Benson 2021) creating digital clothes and fashion shows can save time, and consumes less material. This way designers can see the positive and negative aspects of their lines before they are manufactured, saving resources in terms of textiles. Further, a 2020 research project concluded that carbon emissions from four major Fashion Weeks were about 241,000 tonnes of carbon dioxide. Many fashion experts also predict that with the rise of AR many people will soon be thinking of Digital Fashion as a daily option to express themselves.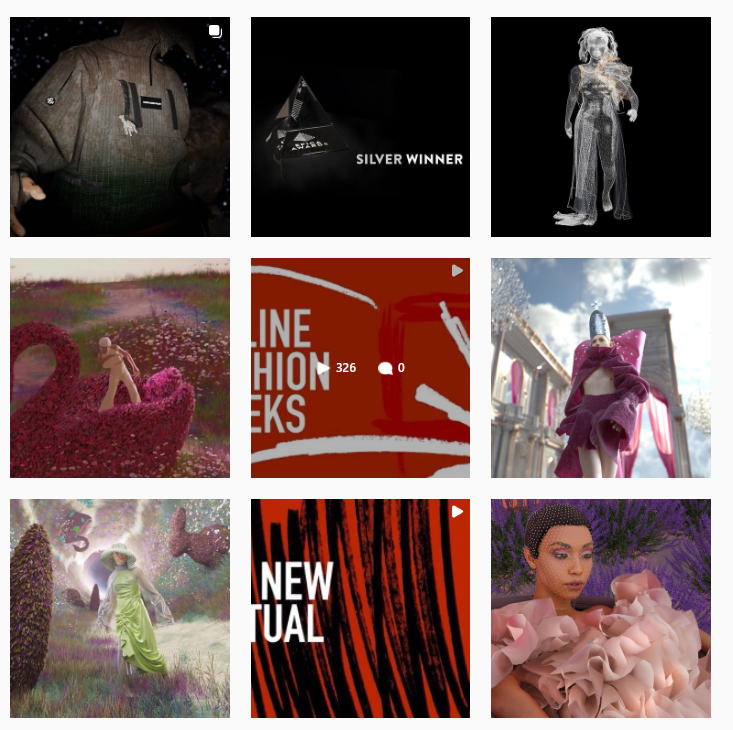 Is digital fashion actually sustainable?
Although it seems that changes like digital fashion shows will be able to cut down on flight emissions and overproduction, high demands within the ICT sector are also causing greenhouse gases (almost 2% of total emissions). Just because the pollution isn't visible doesn't mean it isn't there. Even though the carbon footprint of digital attendees at Helsinki Fashion Week was lower than if they had attended in person, because of the online arena more people attended thus resulting in a higher overall footprint for the event.
Further, the way NFTs are recorded actually consumes the same amount as an average US household over 4 days (Benson 2021). This is the result of NFTs being recorded on Ethereum (cryptocurrency) which runs on Proof-of-Work. Thus, Digital Fashion runs the same risk as fast fashion, which is what Digital Fashion previously promised to replace. However, there are ways to sidestep this dangerous impact, by using Proof-of-Stake instead, which is much more energy-efficient. The company Nano has even reached neutral footprint levels and fully switched to renewable energy. If Ethereum follows this precedent it could mean that Digital Fashion would have a sustainable road for growth.
References
https://www.ordre.com/en/static/pdf/ZeroToMarket.pdf
https://www.voguebusiness.com/technology/influencers-are-wearing-digital-versions-of-physical-clothes-now
https://www.dazeddigital.com/fashion/article/53877/1/digital-fashion-clothing-industry-saviour-climate-sustainability-the-sims-avatar