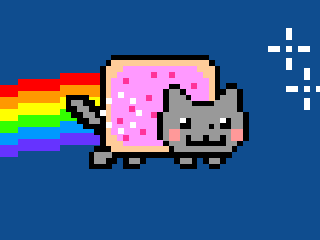 Although it has already been about a good ten years ago, there is no doubt that everyone remembers Nyan Cat. The pixelated cat flying through the sky followed by a rainbow out of its bum became a real sensation along with the annoying song in the background. I, too, was aware of this phenomenon. Even before I knew anything about the idol behind this world famous tune.
While some of you might expect me to dive into the world of memes and gifs after this introduction, I planned to do something else. I will actually attempt to introduce you to the theme of my upcoming bachelor thesis. As my major is Japan Studies, how does my thesis connect to Nyan Cat, you may ask? It's true that 'nyan' means meow in Japanese, but that can't be the reason, right? Well, as I hinted, it's in the song. The song is produced by the Japanese producer daniwell (also on youtube). While this immediately explains why the only lyrics of the song is "nyanyanyanya", it also shows the links to my major and my thesis. Daniwell is not 'just' a Japanese producer, but he's a Vocaloid producer. And the Vocaloid voicebank he used for this perticular song is our non-existant idol, Hatsune Miku.
Hatsune Miku (初音ミク) is originally the name of one of the voicebanks of Vocaloid2, a vocal sythesizer system created in 2007 by Yamaha Corporation. In collaboration with Sapporo-based Crypton Future Media, they created a fictional character along with the voicebank. Although she is not the first Vocaloid voicebank, her last name 'Hatsune' means 'the first sound' in Japanese. Her first name 'Miku' is derived from an alternative reading of the word 未来 mirai, which means 'future'. Her full name then means 'the first Sound from the Future'. The image Crypton Future Media created for her is a very recognisable one, with two long aqua-blue ponytails and a futuristic outfit. Taking this appearance and name into account, I assume that the companies had big plans for her when they created her as a fictional character, and soon she became a real yet non-existent idol.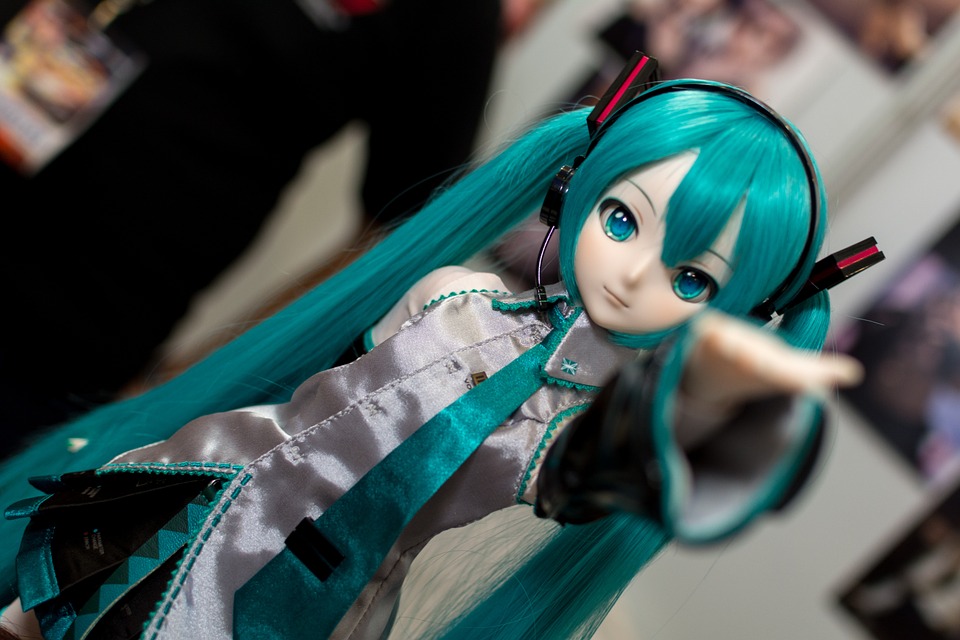 The vocal synthesizer system Vocaloid is often used by so-called VocaloidP's, short for Vocaloid producers. Originally they uploaded their songs mainly on a website called Nico Nico Douga (douga meaning 'video'), now niconico. The original version of the Nyan Cat song is also uploaded on niconico by daniwell. This website is well-known for the amount of otaku-related videos, with otaku being fans of anime (Japanese animations), manga (Japanese comics), games and such. The term otaku is usually associated with hardcore fans and is also closely related to idols. In English it is often translated as 'nerd' or 'geek', but through my own experience, it might have a wider and deeper meaning than just that. For those familiar with the term: it does set quite the vibe, doesn't it? It is for sure to say that niconico is a very fitting platform for creators such as VocaloidP's. 
Hatsune Miku became the voice of quite some karaoke hit-songs, such as 千本桜 Senbonzakura 'A Thousand Cherry Trees'. She regularly perfoms live on stage and she even performed an opera wearing Louis Vuitton. Along with her fame, people would recreate many images of her (fanart or 同人誌 doujinshi ), people would make cosplays of several of her outfits in which she appeared in music video's, new VocaloidP's would start writing their own music with her voice and so on a whole community emerged, creating an incredible amount of digital media with a very unclear definition of copyright. The lines between work that can and can't be copied become blurred. While everyone is copying everyone's work and is being inspired by everyone's work, the community grows rapidly and it even becomes vague what songs and what 'types' of Miku are famous and which are not.
It is because of this that it is hard to do research about this topic. It is quite an untouched field, but also very wide. While reading different papers, it seems that everyone has a different definition of "Hatsune Miku" (is it a voicebank, a fictional character or is she an idol?) but also of "Vocaloid" (is it the name of the program or the brand name for the characters created along with the program?). There is also a technical side to the topic and a cultural side. There is the musical side and the visual side. It is a very broad topic, but I will try my best to narrow it down to a research topic about Hatsune Miku being a non-existent idol and how this came to be. 
Links
https://commons.wikimedia.org/wiki/File:Flying_cat_of_dath.gif
http://www.nyan.cat/credits.php
http://www.vocaloid.com/en/learn/
https://ec.crypton.co.jp/pages/prod/vocaloid/cv01_us
https://pixabay.com/nl/hatsune-miku-pop-dollfie-manga-972730/
https://japanknowledge-com.ezproxy.leidenuniv.nl:2443/lib/display/?lid=40020PEJ0562520
https://www.hollandfestival.nl/nl/programma/2015/the-end/