I first encountered a fake Facebook event about three years ago. It was named Naruto run in front of the Parliament building. A Naruto run is when a person runs leaning forward, with their arms outstretched behind them. Three years ago, there were a lot of memes mentioning Naruto run, so that was the main inspiration for this event. Naruto run in front of the Parliament building event was a mix of a trendy internet joke and a subtle political statement. More than five thousand people pressed the 'interested' button. Also, one of the Parliament members shared this event and posted in his profile that he will be part of it. I honestly thought that this ironic, humorous event is going to take place until I told my friends that I am going to go near the Parliament that day and see how people perform a Naruto run. Then she told me this is a fake, funny Facebook event, and it is not going to take place. It is embarrassing to admit, but I was surprised. All the over events I saw on Facebook and decided to go to, even though some of them also were quite strange, actually took place, therefore I did not consider that this might be an exception.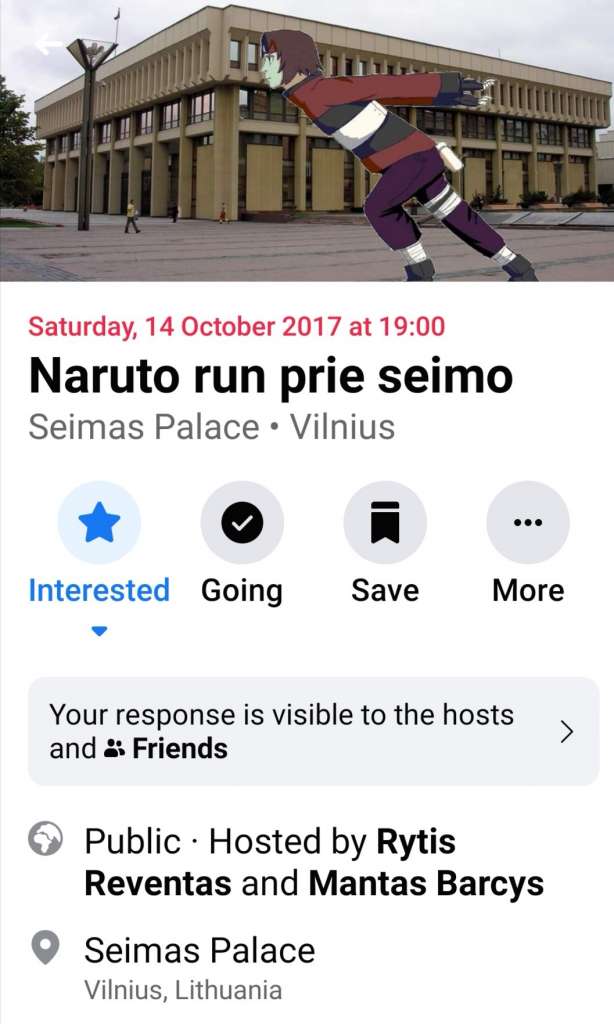 I felt very naïve, but that resulted in me being more careful on Facebook in the future. In my opinion, these fake funny Facebook events that are upfront about the fact that they are not going to happen, by, for example, stating that location is going to be Hell, have a bright side. They make people more careful about all Facebook events, also the scam ones, that aim to steal money from an unsuspicious user.
Humoristic fake Facebook events can have a political undertone as mentioned at the beginning of the blog. Since strong political statements require anonymity, such events are usually hosted by someone whose Facebook profile name screams out – FAKE account. During the spring of 2019, after the Easter holiday, the Coronavirus situation was still not being handled very well in Lithuanian, the country was under a lockdown. A newly elected president, Gitanas Nausėda, was not making any statements or taking actions, and people started to critique him for that. Consequently, an event was created, to gift him eggs (to understand the joke, in Lithuanian language eggs also mean balls). Of course, due to restrictions not to spread coronavirus, nobody could go to Presidential residence and even attempt to gift him 'eggs', but more than five thousand people were interested, stating their political views. So, the Facebook format abled this little virtual protest, and 'participant' still followed regulations, not to physically gather in large groups.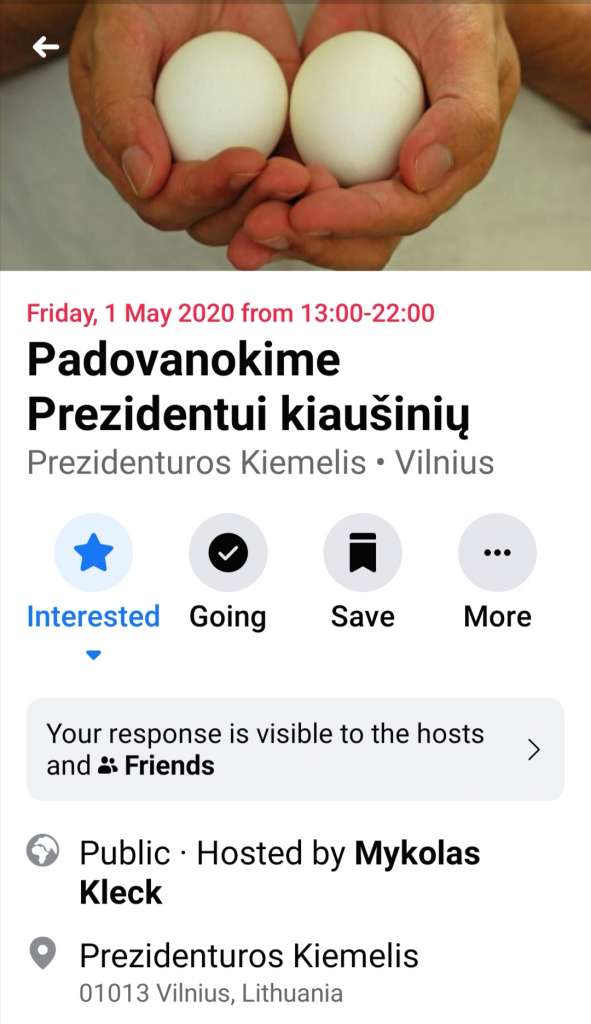 Reading out some of the descriptions of the fake funny Facebook events, you start to imagine how it might look if it were to happen. In this way, it reminded me of Yoko Onos` conceptual artwork titled "Snow piece." It is part of "event scores", that replace the material art pieces. A reader creates a work of art in his/her mind.
SNOW PIECE
Think that snow is falling. Think that snow is falling
everywhere all the time. When you talk with a person, think
that snow is falling between you and on the person.
Stop conversing when you think the person is covered by snow.
— 1963
Even though I have not come across many artistic fake Facebook events,  there are probably some in the deep and wide 'sea' of Facebook events. I do think that artists and political activists in the future will more frequently use Facebook as a platform for conceptual performative, sometimes funny, art events that will have the description as the most integral part. Now, maybe more often, because Facebook events that do not require physical space guarantee safety in the times of social distancing.
I would recommend considering attending a fun event to celebrate COVID-19's first birthday on the discord platform. Will it happen? We cannot be 100% sure before the actual set date in the description.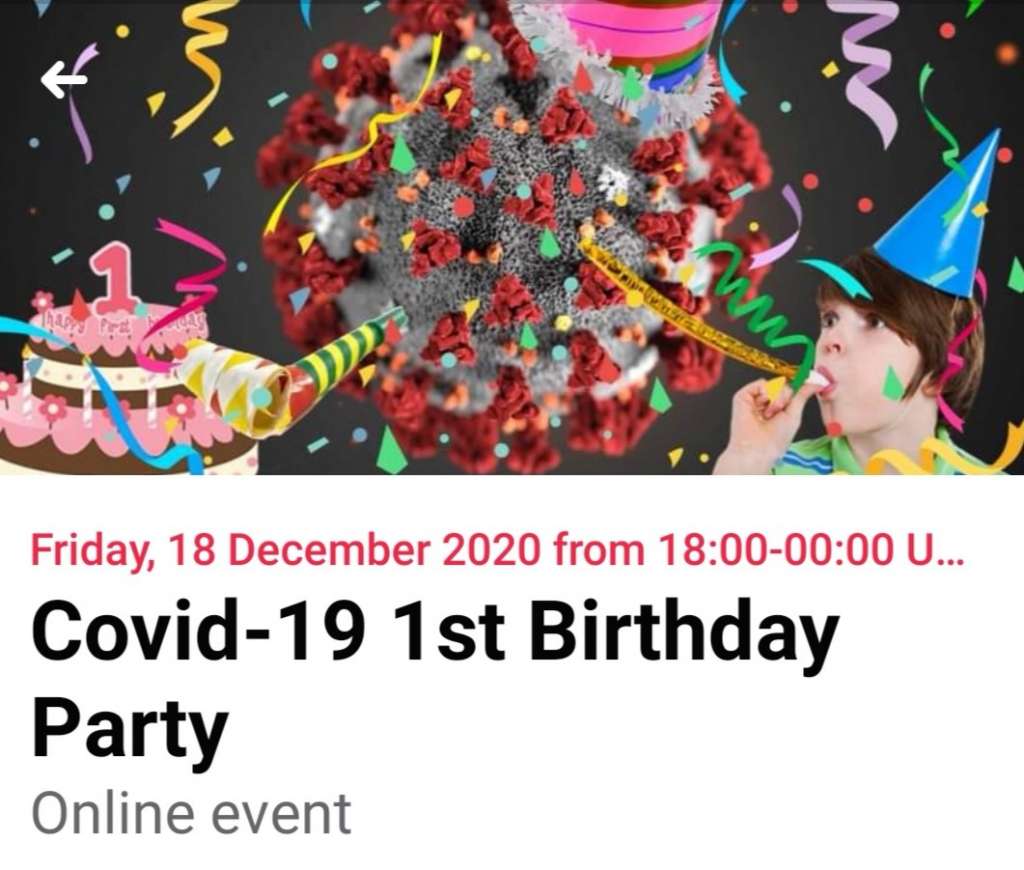 What is your experience with fake Facebook events?
Sources:
https://www.abcactionnews.com/news/national/a-person-doing-a-naruto-run-appeared-in-a-reporters-live-shot-at-the-area-51-event
https://www.businessinsider.com/fake-facebook-events-photos-2016-11#and-morrissey-did-not-play-live-at-the-vienna-beefs-in-chicago-either-17