This blog post is based on an experience I had when trying to find an apartment to move into with my boyfriend mid-pandemic at the start of last year. Much like the behaviors described in Jia Tolentino's The I in the Internet, my experience with finding housing on social platforms and websites was made negative by the comments made by the posters listing homes as well as their dismissive and aggressive comments. Much like Jia describes, I also lost that sense of "goodness" that I had previously experienced online. In my case, this "fake mirror" had to do with how landlords and realtors present and defend their own interests and express personal opinions with a disregard of how their possible, past, or current tenants are impacted. Both in terms of anonymity and in the structural nature of social media platforms, many of these companies and individuals take on a more cut-throat and aggressive. This is a direct consequence of what Tolentino calls "Web 2.0". As digital platforms begin to take over activities that were previously discussed in "real life", the comments and posts made by users are starting to have more control over how we interact with each other in these digital spaces. I think that my personal experience is a good case study that shows both the increased freedom of experience and opinion sharing, as well as how easy it is to get into negative, unproductive conversations.
I will be talking about how housing agencies and landlords tried to scam us into unfair contracts and with the added layer of corresponding online, misled us almost every step of the way in terms of the appearance of the house pictures and even their existence. Towards the end, I will summarize my thoughts, and considering my experience, I will list some do's and don'ts to hopefully help others who are also looking.
Facebook: Where housing ads (and scams) are found online
Facebook marketplace is riddled with scams. So why do these scams still work on some people? It feels as if these scammers feed on the desperation of young adults who are students and desperately need housing. Oftentimes these people will show great pictures and before sending any contracts will ask for a deposit (usually at least 500 euros) to be paid before going further. Then they will block you and never reappear. These stories are shared frequently but it doesn't stop these scams from happening. There are even instances where people signed contracts during the lockdown and after paying the full deposit and the first month's rent realized that the advertisement wasn't real. The difficulty with finding a place online is that, if there is no way to view the apartment in person, the stranger on the other side of the screen can easily lie and manipulate the tenant. Because I checked all the housing sites daily, I began to see a pattern with Facebook marketplace and quickly discerned that relying on this site would be unwise. As soon as I posted on expat and housing groups about looking for an apartment, I was flooded with spam direct messages that either showed me the same place from different people or made a well-priced offer without pictures, ghosting me when I asked for more details. Their discourse was convincing and if I had not been cautious I may have fallen into this scam as well.
Are official housing websites actually trustworthy?
For the rest of our time searching, we mainly focused on the housing site "Pararius". On this site, you can search by price, rooms, furnished status, and location. We favorited a few places that fit the price range and location and wrote in a description of why we wanted a viewing and a short introduction of who we were and what we did. One notable thing here is that if I only mentioned my bio as a student in the correspondence, I would not get a response. It was only when I also mentioned that my boyfriend had a full-time job that I got any replies to set up an e-viewing. As a student who is financially stable and works part-time, it was difficult and often de-moralizing that to get the attention of real estate agents I had to rely on someone else's credibility; that what I was offering was insufficient. Even though one would expect that the real estate agencies have an ethical and trustworthy code of conduct, what I had avoided with Facebook Marketplace happened on Pararius.
Here is where the scam started. We were contacted by the housing agency Tweelwonen, who at first gave us an e-viewing for a 2 bedroom house. After we saw the place we applied for the house and almost immediately were told it was unavailable. Then, they sent us pictures of another apartment in Leiden that looked more like a hotel. We were not able to have an e-viewing and they urged us to send our proof-of-person to at least have a chance to get the place. With this pressure, we sent passport pictures and bank statements and signed that we were who we said we were. After this they sent us a message saying we would need to pay 1,500 euros upfront, saying the document we signed entitled them to a deposit we had not agreed to, and if we did not do this we would be sued.
Fake homes, real consequences
Being an international in the Netherlands all documents were are Dutch so the fine print is important. We translated it and saw a citation to a landlord's law stating this was legal. We had a lawyer friend look at this law and she said this law had been extinguished since 2007 so what they were doing is illegal. Once we confronted them with this information and threatened to make an official complaint they stopped all contact with us. But there are many people who did end up getting scammed and lost a lot of money. Below are reviews from Trust Pilot of people that gave them one-star reviews. I also point out the responses of Tweelwonen to each review. All responses to the angered ex-tenants are combative in tone and victim blame. They are also from a copy-paste format which speaks to the lack of care they take towards tenants.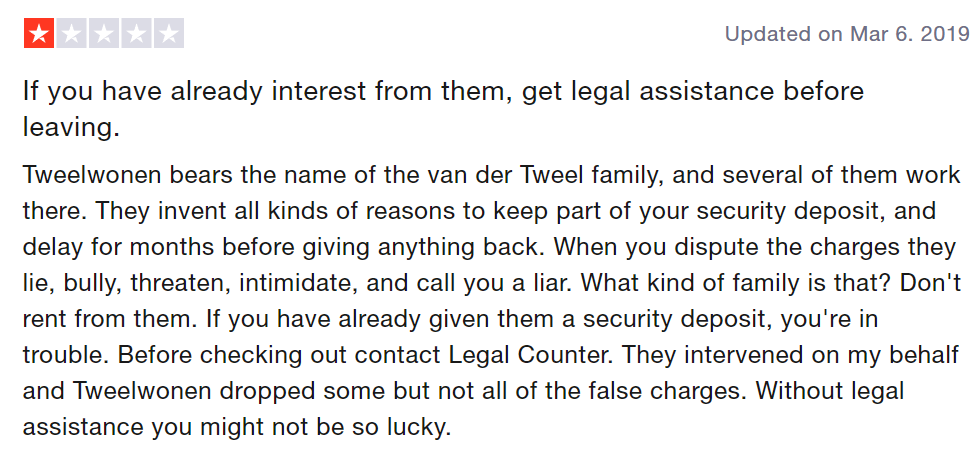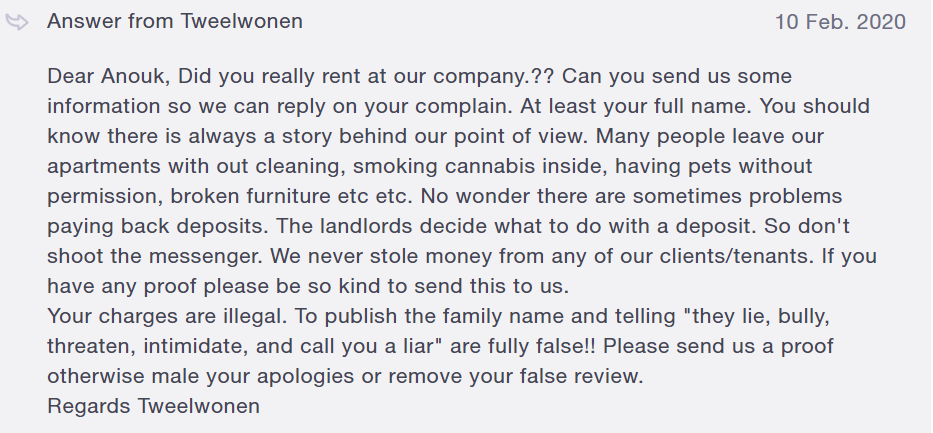 Do's and Don'ts of Online House-hunting
Do:
Make sure to at least have an e-viewing and if possible see the place in person
Research the agency; use the internet to your advantage and look at reviews
Compare pricing of deposits with other agencies
Get contract translated and read it very carefully
Don't:
Rely solely on images
Pay anything up-front without a concrete contract
Sign any documents unless it's a contract
Feel obliged to make a decision if the pressure is put on you
These scammers take advantage of vulnerable situations. By corresponding through digital means (WhatsApp, email, phone calls, video, etc) these individuals and companies can manipulate situations to their advantage. The risk of online house hunting is that you are giving away information about yourself that could be used against you later on. Fact-checking is also difficult because the websites are overwhelming and there are so many pages to look through that fatigue of searching may make you more amenable when one agent responds.
What experiences have you had house hunting online?
References
https://nl.trustpilot.com/review/www.tweelwonen.nl?languages=all&stars=1
The I in Internet in Jia Tolentino's (2019) Trick Mirror.