Imagine a building you're obligated to enter every week, where cameras are faced on every entrance and exit. These cameras are owned by a company which has the power to enable their technology to tell your age, mood, height, and gender. This company is located in a country where a totalitarian government can at any point in time look into the company's data and influence or change its policies to its likes. And if that's not infuriating enough; this technology potentially spying on you is being funded with nothing less than your own money.
Not some cliché Orwellian sci-fi scenario is described here, but the absolute bizarre reality at Leiden University. The university management decided to spend an estimated €210,000. – on 350 AI-driven 'counting sensors' during the lockdown of early 2021. This was done behind the back of concerned teachers and students, who pay the tuition fees on which these extravagant expenses rely. On its website, Leiden University claims they can 'guarantee to its students and staff that the scanners do not store camera images or record specific personal characteristics.'1 Clearly, the university hasn't been doing their research good enough. And even if it had, the University management is more than insensitive to its students and their current social circumstances. Here's why.
Although the university might really believe the student's privacy is protected despite the far-reaching overkill-technology by Xovis, the company's cyber security and location reveal something different. The login-page to the cameras' collected data and potentially their privacy settings could until last week be found as the first search when looking up 'Xovis Universiteit Leiden' on Google, while the login page is not https secured.2 This is amateurishly unsafe for any website wanting some protection against cyberattacks, especially for a website on which such personal and privacy-sensitive data can be found. Apart from that, Xovis cameras are manufactured in China and one of its headquarters is in Shanghai. The Chinese government has been monitoring companies increasingly more often in the last years, to the point that government officials infiltrate private company managements.3 The concerns that exist about for example Huawei (and the Chinese government potentially spying through its technology) could very validly be expressed for Xovis cameras as well.
Apart from the extremely poor cyber security and the risks the university willingly takes with its students' rights, the timing couldn't be worse. Due to last year's total social isolation, curfew, decline of education and closing of sporting facilities, an enormous amount of students (roughly 50%!) have said to suffer mental health problems and 25% have said to have thought of suicide last year. Workgroups are more packed than ever and there is a shortage of teachers, resulting in those left frequently becoming overworked. This all results in an overall poorer level of education. Instead of doing something back for the students who have overpaid a whole schoolyear and have seen only mental illness and stress in return, University Leiden decided to use profits made by a year of saving on maintenance to surveil over them and gamble with their privacy rights. Not only has the university ignored students' problems, it has even stopped funding support groups about sexual intimidation on campus.
The complete insensitivity towards the rights and emotions of students and staff is further highlighted by the fact that the university has not asked for opinions of teachers, staff members or students before doing this huge investment. Only now that the weekly paper Mare has written about the installment of the AI-driven, very-much-capable-of-more-than-counting cameras, the university feels the need to inform students rudely short that they, basically, have nothing to worry about. This shows the decadence of the university management as well as their sneakiness; for almost a year, our university has been setting up this surveillance structure without ever once informing its students, whose tuition fees are used to finance it. By doing so, the university blatantly creates an intimidating, potentially rights-infringing environment for students who long so much for a safe haven against social isolation and unconstitutional nationwide rights-infringing decided on by our government in the battle against COVID-19. Universities should be places where everyone can feel safe and supported to academically and socially develop themselves. Instead, all that Universiteit Leiden does is kicking its students when they're already down.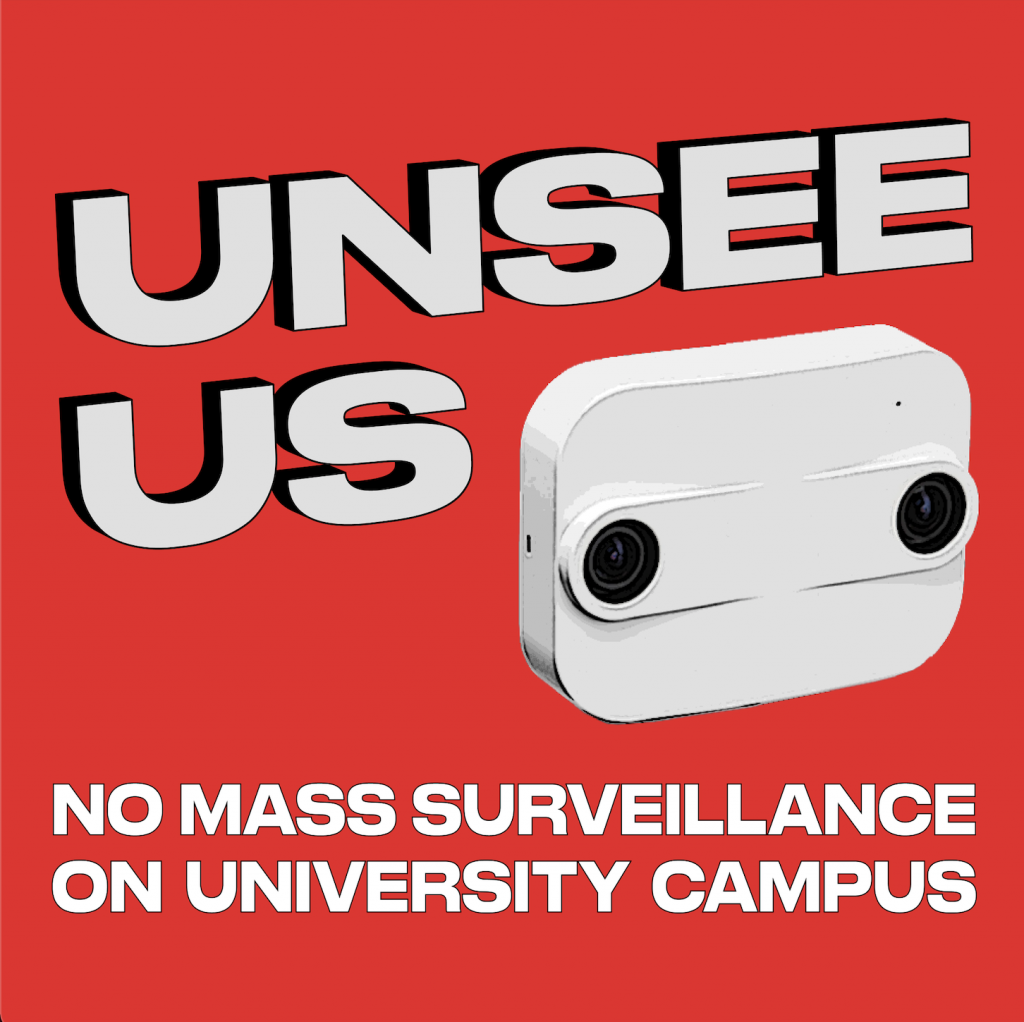 On 7 December, there will be a protest taking place from 13:00-14:00 at the Lipsius building of Leiden University (Cleveringaplaats 1). All students concerned with their privacy or disagreeing with the University's investments are asked to join an outside protest in front of all entrances to the Lipsius building during the assigned time. By doing so, we block all doors to mirror the hostility that the university management has created through installing the cameras. Every participant is kindly asked to self-test on beforehand and wear facemasks. We protest to demand from the university to 'unsee' us, remove its mass counting system and stop the tracked surveillance on its campuses. 
Anyone is welcome to help organize the protest, share experiences about feelings of intimidation or contribute to open up the conversation with the University management. Please contact 'joris.wiebes@gmail.com' for further information.
1"University Using Ceiling Scanners to Count Students and Staff in Attendance – Leiden University." Universiteit Leiden. Accessed November 22, 2021. https://www.staff.universiteitleiden.nl/announcements/2021/11/university-using-ceiling-scanners-to-count-students-and-staff-in-attendance.
2"Opeens Hangen Er Overal Slimme Camera's (En Die Zien Alles)." Mare Online. Accessed November 22, 2021. https://www.mareonline.nl/achtergrond/opeens-hangen-er-overal-slimme-cameras-en-die-zien-alles/.
3Coy, Peter. "The Ever Longer Arm of China's Communist Party." Bloomberg.com. Bloomberg. Accessed November 22, 2021. https://www.bloomberg.com/news/articles/2021-01-14/the-ever-longer-arm-of-china-s-communist-party.