Our life is filled with happy accidents. We make mistakes, regret them and then make the best out of a sticky situation. Most of us will probably also know where the phrase 'happy accident' comes from, that being The Joy of Painting hosted by Bob Ross. The American painter with a wholesome smile and a big afro is known by many, and loved by all. His short tutorials where he invites you to paint alongside him show everyone can paint a pretty picture, as long as you add in a friend for the tree you've painted and beat the devil out of your brush. However, after watching the most recent Netflix documentary titled Bob Ross: Happy Accidents, Betrayal & Greed, I wondered if my appreciation for him and his show was also a happy accident. 
Bob Ross painted scenic American landscapes, while not only making his viewers fall in love with his effortless style of painting but also with him as a person. With a friendly smile and a soft and soothing voice with which he spoke words of wisdom, he makes you feel like you are receiving a warm hug. Rather than feeling discouraged by embracing a new hobby he would encourage his viewers to paint along and embrace their mistakes, rather than letting them stop you. It is the level of familiarity and friendliness he conveys within a twenty to thirty minute timespan that makes you feel as if you are loved and appreciated. Bob is happy that you're learning to paint, so you should be too.
"In every episode, Ross explained his art not merely as a way of layering paint, but also as a way of capturing the eternal beauty of the world and living free no matter the challenges in life. As he filled his canvas with light and color, he'd say things like "'This piece of canvas is your world, and on here you can do anything that your heart desires."' When he painted a cloud, he might say, "'A cloud is one of the freest things in nature,"' or, "'Clouds sort of float around and have a good time."' When he'd turn his painter's knife on its edge and carve out a crisp, snow-capped mountain, he'd sometimes point to one side and say, "'This is where the little mountain goat lives, right up in here. He needs a place to call home, too, just like the rest of us."' "

Michael J. Mooney in the Atlantic
His show The Joy of Painting aired for over ten years in from the 1980s to the 90s, but the episodes have been reposted to video platforms like YouTube, while also being broadcasted live on the platform Twitch, where Bob reached even more viewers than the original TV show ever was capable of. As time went on – and as the pandemic began – we all grew to love this man's approach to life and the seemingly effortlessness of his craft. Resulting from this, his videos reached over 37 million views and Bob Ross became a staple in today's society and digital culture. Ross's presence in meme culture is shown for instance in the 'Epic Rap Battle' between him and Pablo Picasso.
Alongside his videos, which are free of charge thanks to YouTube's and Twitch's accessibility, his fans were encouraged to purchase Bob Ross merchandise. Of course, Bob Ross Inc. still earns plenty just from advertisements and subscribers on these video platforms but more income could be made. Think of a chia pet where the plant you grow will be Bob's afro, a Christmas ornament, costume kit or painting supplies which are apparently as good as the ones used on his show. Despite my urge to sometimes purchase a 'Happy Accidents' T-shirt, I never questioned who was the owner of Bob Ross Inc., or where the proceeds of my purchase would end up. When purchasing things online – or even when supporting a channel – you lose the physical act of a purchase and may forget about what kind of company you're supporting.
Let's just take a step back and see how Bob Ross first became an established TV-host. After a short period in the military Bob discovered a similar show by
Bill Alexander
and studied his technique, after which he even joined his team as a travelling salesman and tutor. Here he met Annette Kowalski, who convinced Bob Ross to start a like minded business himself, which ultimately grew into a multi-million dollar company. If you want the full story with all the details I would recommend you to check out the documentary on Netflix, but long story short; Bob Ross and his wife Jane owned 50% of the company's shares, while Annette Kowalski and her husband had the other half. Vanity Fair does a good job on summarising the situation: 
''After Jane's death, and then Bob's in the mid-'90s, a legal dispute between the Kowalskis and Ross's survivors resulted in a settlement that put the company completely into the control of the Kowalskis. Today their daughter Joan Kowalski runs the business, which sells painting supplies bearing the fuzzy-haired artist's name and image while also licensing merchandise like socks, underwear, slow cookers, and other comical bric-à-brac.''

Anthony Breznican in Vanity Fair
Succeeding Ross's death, the company shifted their focus from producing a show to taking Bob's image and talent by bringing out merchandise, following the trend of mass-marketing. The name of Bob Ross was taken from the father and artist that he was, and turned into a brand that in turn secured a stable income for the Kowalskis. Building atop of this is the fact that Steve Ross, Bob's son has lost control over his own family name and his father's show, on which he occasionally featured on a special episode to show that he could paint as well as his father, and that he was capable of stepping in his footsteps.
"In the documentary, which debuted Wednesday, the painter's son, Steve Ross, asserts not only that he was wrongfully denied control of his late father's image, but that Bob Ross Inc. has cheapened his dad's legacy."

Anthony Breznican in Vanity Fair
On the official social media pages of Bob Ross (owned by Bob Ross Inc.), there has been shown a clear decrease in followers, as the happy world as shaped by Bob Ross has been shattered right in front of fan's eyes. The happy scenes of 'tree friends' and imaginary worlds have been turned into a world filled with mistrust and injustice. This change of attitude is overwhelming on the official instagram account @bobross_thejoyofpainting, where no matter which post you go onto, the main comment is 'Justice for Steve Ross'.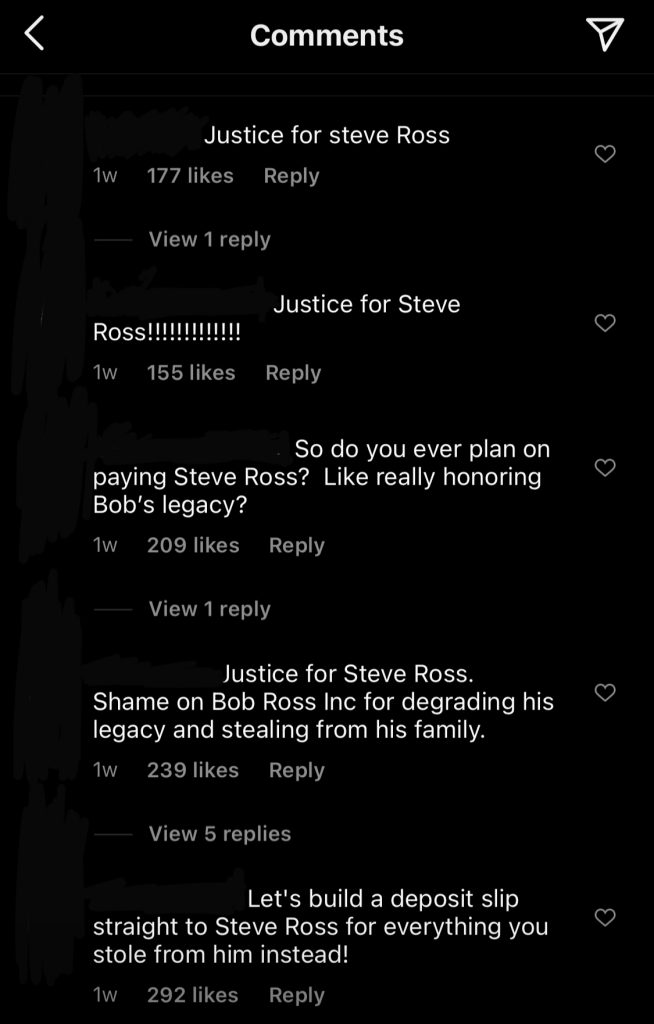 A similar approach is seen on @BobRossOfficial on Twitter, a platform which is known to enable its user to freely speak their opinion. Twitter has been shown to tackle several societal issues, through the spread of awareness and use of hashtags. While Bob Ross Inc. has not released any statements regarding the lawsuit, nor the justice that is demanded for Steve Ross, they have continued to post similar content as they always have. I am curious to see how his boycot of Bob Ross Inc. continues and if it will carry on until the issue is resolved (for as far as that is possible). The Bob Ross controversy shows not only how digital media (specifically Netflix) is able to bring about an issue and raise awareness, but also how social media platforms can be used as a form of online protest to demand change.