Lately, my social media seem to have been filled with two contradictory ideas. On my Instagram feed, I've been bombarded with posts about mental health and self-care in relation to the passing of World Mental Health Day this Sunday. Contrastingly, my YouTube has been dominated by videos like How Self-Help Brainwashed Me and Self-care might be turning you into a narcissist.
So, that got me thinking about the role social media plays in mental health and the industries surrounding it — from therapy to self-care and self-help.
We often hear about social media's effect on our mental health in terms of the negative effects it can have. For example, in class, we've talked about unhealthy comparisons with others on Instagram. However, what I seek to explore with this blog post is more so how social media is used by people as a tool to help them cope with various mental health struggles.
Instagram therapy
So where to start? Well, Google — of course. Various searches about Instagram and its contribution to mental health awareness pointed me in the direction of so-called Instagram Therapy.
Instagram therapy is when a person provides mental health-related advice on Instagram in the form of quotes, captions, stories, etc. It isn't granted that the person is a licensed therapist, but (thankfully) there are many out there who are.
One example that illustrates the phenomenon quite well is the profile of Lisa Oliviera. She's a US-based therapist and writer who shares quotes like the one below as small reminders to her followers.
It's a good example because it showcases the general tendencies of Instagram therapy profiles, namely that the advice is broad and generally applicable, has little context, and is curated in a very aesthetically pleasing way (😍).
New York Times debate
Before going into further discussions about Instagram therapy, let's look at the term's growing popularity online. In 2019, A New York Times article titled 'Instagram Therapists Are the New Instagram Poets' sparked debate online. The article itself merely explained what Instagram therapy was as a phenomenon and interviewed some of the most popular therapists/content creators (one of them Lisa Oliviera, who's mentioned as "somewhat of a pioneer").
In explaining it, the article takes a positive approach and outlines some of the benefits of Instagram therapy such as it helping people "heal themselves" and providing the aha moment of a therapy session without the subsequent invoice.
At the same time, The New York Times didn't stay completely uncritical and the therapists who were interviewed for the article were also quoted saying that Instagram therapy does not replace real therapy.
Nevertheless, the piece fostered a lively debate through subsequent articles and blog posts from various media,producing headers like 'Instagram Accounts Are Providing Secondhand Therapy — Here's Why You Should Be Careful,' 'The Danger Of Instagram Therapists (& What Real Therapists Think Of Them)' and '6 Problems of "Instagram Therapy".'
What's happened since 2019?
What's interesting about the debate sparked by the New York Times article is that it didn't die out. Often, issues that are debated online tend to be all the rage one moment and forgotten the next, but although 2019 is now *gasp* two years ago, the conversation about Instagram therapy continues with several articles produced this year.
My guess* is that what happened since 2019 is, well, a global pandemic. During lockdowns, people didn't have as much access to actual therapy, and mental health declined. Also, we had much more time to spend on social media. It seems likely then that Instagram therapy has grown over the past two years due to the circumstance the world has found itself in.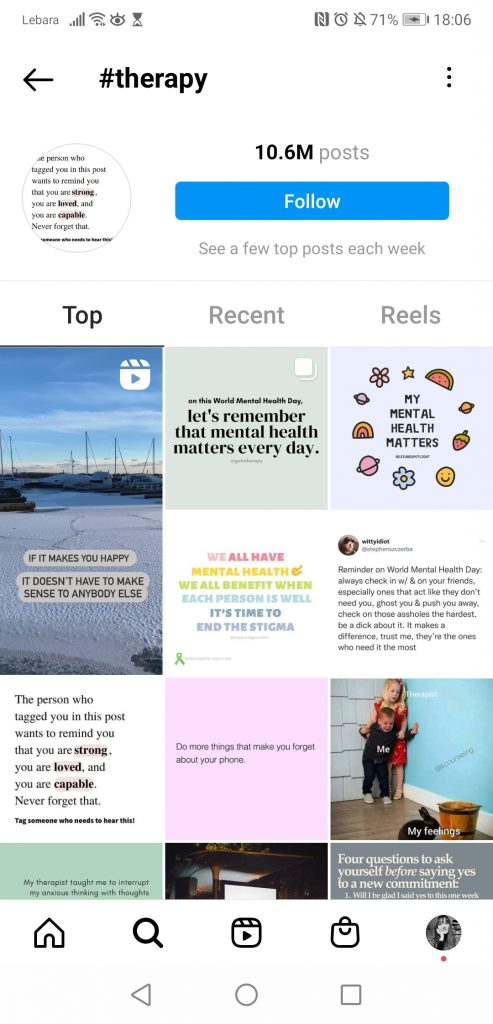 It Instagram therapy good for us?
Based on what I've read online (and common sense, if I may say so), the consensus seems to be that Instagram therapy is in no way an alternative for actual therapy. However, if we are critical with which profiles we follow by making sure that the people behind them are qualified and by staying mindful that not all advice is relevant or constructive for our personal challenges, then Instagram therapy can be a positive force in many peoples' lives.
---
*I wanted to analyze the growth of the hashtags #therapy #mentalhealth #mental illness and #selfcare over the past two years but couldn't find a tool to do so for free. Hence, the guess.
Feature Image: cottonbro/Pexels