I decided to write a sequel to my blog about How YouTube can help you learn almost any skill for free. At school, I chose to take Spanish instead of French lessons for my GCSE year. GCSE's are exams that you take in year 11 but it is a two year course meaning it starts from year 10, and you write your finals in year 11.
Taking Spanish classes also made me realise just how little I knew about the language, this encouraged me to seek a tutor. I passed my classes including Spanish, and I have come to enjoy Spanish as a language.
Listening to Spanish music and how it helps when learning the language
Recently, I started picking up on Spanish by listening to Spanish music, and also watching Spanish shows with English subtitles. I have always preferred that over reading vocabulary in a textbook, and getting more confused about the grammar. I decided to also listen to some Spanish music, along with some traditional ways of learning a language, for example, watching a grammar video on YouTube.
Now, how do I actually pick up on Spanish when listening to music? Well I listen to the song first then search the lyrics and compare it to a translation. I also listen to cover songs that are originally in Spanish, but have been translated to English. 
For example, one of the songs I listened to on YouTube is Isabel by Il Divo, and I learned that according to the English translation the Spanish word for "angry" is "enfadará", and "today" means "Hoy".
This may not seem like you learn a lot, but words like that can help because you might be able to formulate a sentence using one of those words. "Hoy" is a common word to use because it addresses a moment in time for example, What are you doing oday? You may answer in Spanish "Hoy me quedo en casa", which means "I'm staying at home today"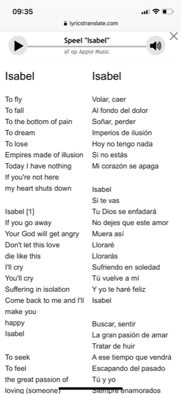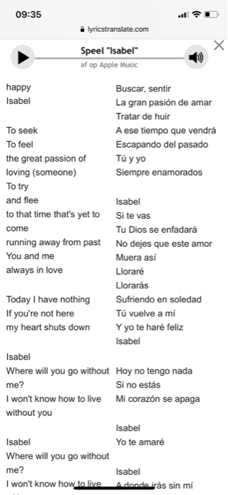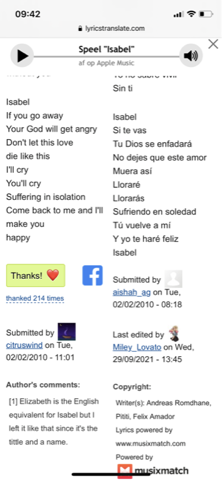 Watching television helps you pronounce words correctly
Some shows I watched on YouTube with English subtitles are: Carlos Rey Emperador, La Corona Partida, and Isabel. All great shows that I recommend as it has helped me pick up on Spanish, but the downside I only learned words like: Reina, Principe, Inglaterra, España and so on.
When watching Spanish shows I take notes on Spanish words by writing down the English word from the subtitles and typing it in DeepL translate. For those who do not know what DeepL is, it is a translation service that is supposed to give accurate translations to a wide range of languages. Watching Spanish historical dramas on YouTube has been useful when trying to learn Spanish as it does not only expose you to new words, but also directly shows you how to pronounce those words. The issue with learning a language is that sometimes we do not really pay much attention to pronunciation, but watching television should be able to tackle the problem with pronunciation. The translation service DeepL also offers a pronunciation of the specific word you want to translate.
Conclusion
Listening to Spanish music and watching Spanish shows on YouTube has aided me when trying to pick up on Spanish after learning it in school, and then not learning it all after dropping it as a school subject. Learning a language using YouTube shows that the digitalisation of the world has given opportunities for everyone to learn a new skill, and sometimes in a short amount of time. Therefore, the digitalisation of the world is a good thing as it is no longer obligatory to take a class to learn a skill and pay money for that class. Although taking a class to learn a skill for example learning a language. is still an advantage and its importance should also not be underestimated. Personally, I enjoy watching YouTube to learn the Spanish language as it is a fun way of learning.
References
https://www.deepl.com/en/translator
https://lyricstranslate.com/en/isabel-isabel.html
https://www.spanishdict.com/translate/hoy
.